About Us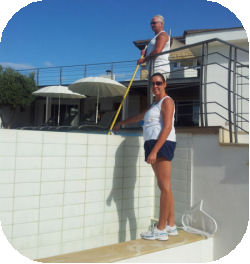 Our property management business was formed in 2007 and since then has grown steadily, mainly through recommendation.

We provide a quality of work with attention to detail on all the services we supply, at very competitive prices.
Our property services can be mixed and matched, so you only pay for what you need, whether that is pool cleaning, gardening, full rental management or anything else.

As an experienced tradesman, we can also offer you best quality installations of wooden structures including but not limited to pergolas, carports and decking, and also stonework like patios, driveways.
We treat every job like our own, with full attention to detail and using only quality materials. All our work is guaranteed.
What's more, with negligible overheads and privileged access to trade prices we can be seriously competitive on price.
Testimonials from some of our customers are available here and viewing of existing local installations can be arranged on request.